Click to rate this Recipe!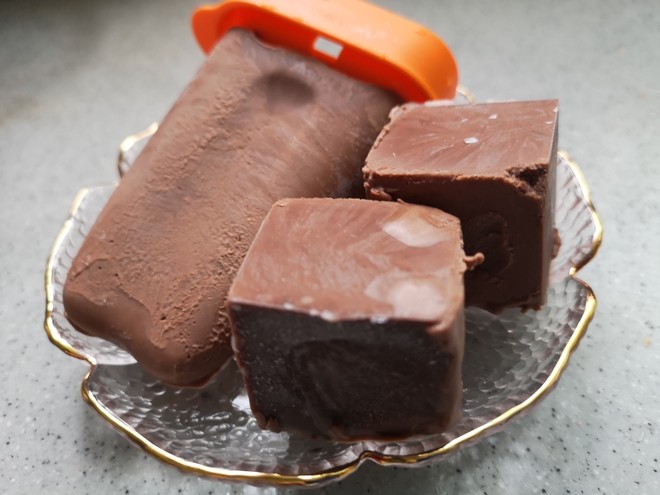 material  
| | |
| --- | --- |
| Dark Chocolate 95% | 40-50 grams |
| Anjia Whole Milk Powder | 30 grams (strictly ketogenic can be omitted) |
| butter | 20 grams |
| Light cream | 280ml |
| sugar substitute | 3 packs |
Keto ~ how to eat dark chocolate ice cream without getting fat  
All raw materials are shown in the picture. If you like sweeter, you can adjust the amount of stevia by yourself. If you like thick milk, you can also adjust the amount of whipped cream and milk powder. In short, the taste you like is the best!

The light cream 

➕

butter 

➕

stevia is slightly heated and melted, and stirred well.




Add 30 grams of whole milk powder, stir well and turn off the heat. Milk powder is added to make the milk taste more intense, or it can be omitted.




(In order to take pictures, I was lazy and put it in once, but it is still recommended to blend it in stages, which will be smoother)

Add the 95% dark chocolate and stir to melt until smooth and grain-free. In the process of stirring, if the temperature becomes low and it is not easy to melt, you can heat it a little more.

Remember, the temperature must be controlled at more than 40 degrees, otherwise the chocolate will be separated from oil and water.




The dark chocolate in the recipe can range from 40 grams to 50 grams. According to your taste, you can't eat the reduction of bitterness.

Put it into the mold in the warm state, and send it to the refrigerator to freeze after cooling. It was almost dark when the photo was taken, and the chocolate liquid under the light was darker.

Unmould and eat! Irresistible delicacy for chocolate lovers! Of course it is also a proper fat bomb?

That's right, this is how you eat ketogenic weight loss!
104424808